And I am finally done. Matt can throw the two casseroles in the oven while I shower tomorrow. We have 2 Thanksgiving dinners to attend tomorrow. My MIL's and my sisters. No offense to my MIL, but I am most excited to be spending Thanksgiving with my sister. It's been a long time, and plus, this will be the opportunity for my nephew to spit up on me again.
No, seriously. Every.Single.Time. Last time he even pooped on me. I think if some type of bodily fluid doesn't get on me, my feelings will be hurt. (watch him pee in my eye this time)
Now that the bodily fluids are done... What have I been baking/cooking since Tuesday? Cookies, two 3 layer chocolate cakes, fresh rolls and corn bread muffins, Green bean casserole, and two macaroni and cheese casseroles. It's 2:26am and I am just now finishing up.
Of course, this two day cooking doesn't take into account the 2 pumpkin fluffs that I made. 1 for my nephews birthday party and 1 for Chloe's class party. Along with a loaf of pumpkin bread for her class party. And a cookie pie, just to try out the recipe.
So, here are the "fruits" of my Thanksgiving labor. Everything I make is pure homemade:
My cookies:
1 of the cakes I baked: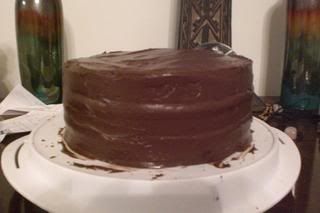 Dinner Rolls (first time I have ever made these!) I hope they reheat well.
Corn Bread Muffins. I can do these with my eyes closed:
Green Bean Casserole. This is the second time I have ever made this. Matt said a few years ago, the one I made was awful. I was crushed. Cross your fingers! I am putting on the crispy onions and baking in the AM: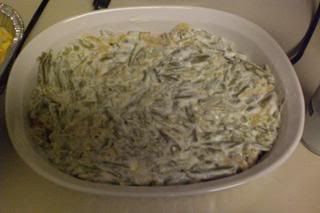 One of the Mac and Cheese casseroles (baked mac and cheese)Will bake in the AM: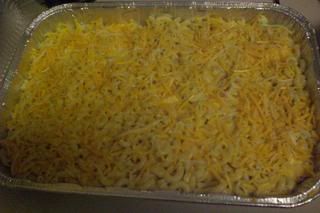 What my kitchen table looked like this morning: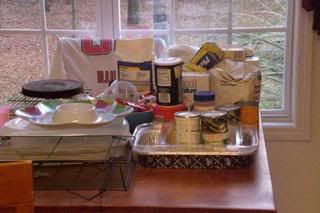 And here is what happens when you have left over chocolate frosting and two extra cookies you don't need and your husband wants to play with the leftover royal icing in the piping bag:
Yes. That's a cookie sandwich.