Today was spent buying paints and shopping. I am making some wooden stars for the Christmas tree, and realizing that I have a whole bunch of homemade ornaments even from last year, where I painted a few Christmas balls. Matt and I have decided that we are going to buy a 3 foot pink tree from Walmart for the girls to put in their room with ornaments that they make. I know they will love it.
We also let the girls pick out their yearly ornaments for the big tree. Emily picked out a purple bell, while Chloe picked a pink convertible. So her. After we left Hobby Lobby (yes, I do live there), we came home for lunch and naptime.
Of course, this is when the events of the earlier entry took place, so let's fast forward.
We headed out to our favorite Christmas Tree lot. They are family owned, have AWESOME trees, and great prices. They also value their customers, because every year they send out a card giving you 10% off of the tree. They do a hay ride (FREE) for the kids and even have a sled out for the kids to sit in and get their picture taken in. It's such a wonderful place.
Christmas trees and I have a funny thing between us. Every year I say that we are going to wait to buy the tree, and yet every year I buy it either on or the day after, Thanksgiving. I can't help myself.
And this year, I really really love our tree.
Except for the fact, it's crooked. They cut the base at an angle, which is irritating, but Matt can fix that. I can't wait to decorate the tree!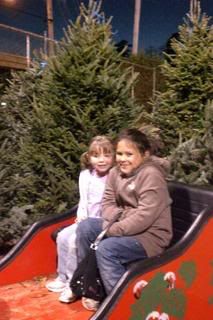 (this is my living room after we got all the Christmas stuff out of the attic!)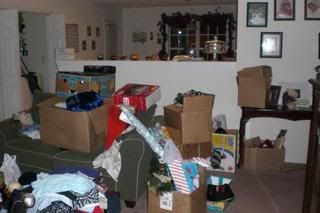 And the crooked Christmas tree: